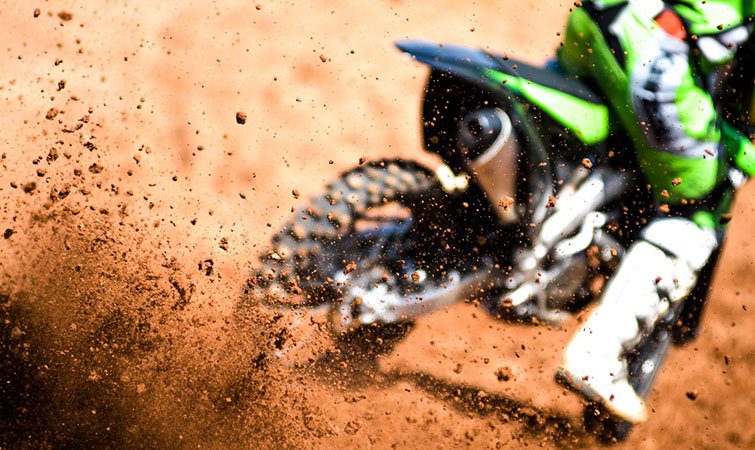 06 Mar

The Best Dirt Bikes Off The Road

A dirt bike is a lightweight motorcycle that's designed for rough terrains or unsurfaced tracks. They're made to help riders maintain balance by absorbing impact as they overcome obstacles along tracks such as logs, low-hanging trees, big rocks, and even streams. Dirt biking is a popular extreme sport with thousands participating in competitions. However, some people ride their dirt bikes off the road the way some people go hiking on weekends –just for leisure.

Dirt bikes are measured by the size of the engine referred to as cc's. The higher the cc's, the more powerful the bike is. Whether you're a passionate rider or a beginner, it's important to know the different types of dirt bikes.

There are four: Motocross, Enduro, Trail, and Dual Sport. Let's see the difference between these bikes…
Motocross
Motocross bikes are built primarily for racing so they are lighter than a trail bike. They're designed more for speed and less for endurance, though the latter matters too. Ranking as number five in the most expensive 250cc 4-stroke motocross bike of 2015 is the Yamaha YZ250F.
It has a 77-inch cylinder bore and stroke of 53.6 inches. Though quite a powerhouse, starting the engine is a snap and the throttle response will not surprise you. One of the best qualities of this brand which outlives its competitors is the 2 gallon fuel tank. This is larger than the average motocross bike, which will give the rider another extra mile or so to run. This bike costs $7,590.
Enduro
The name gives it away, doesn't it? Enduro motorbikes are known for their –you've guessed it– endurance. They're heavier than Motocross bikes and have a sturdier build that's meant to withstand long rides on rough terrains.
One of the top ranking Enduro bikes is the 2014 KTM 500 EXC which costs $10,099. Its 510cc engine is considered larger than most 4-stroke motors but it has a fuel tank capacity of only 2.25 gallons –an average for this type. What it's popular for is its higher seating position which accommodates riders of all sizes and impressive structure: a tubular frame made of chrome molybdenum and steel.
Trail
Perhaps the most versatile option for dirt bike enthusiasts, the trail bike can be customised according to how you intend to use it. A change in sprockets can transform it into something lighter and faster, or even increase its ability to withstand the grind of rough landscapes.
If you're looking for a trail bike for short rides in the mountains, this 2011 Zero X is a good pick. Its seat height measures 33.3 inches from the ground and features 19-inch front wheels and 16-inch rears. At $7,995, this is an excellent starter bike for those who just want to play in the dirt and dust for a weekend adventure.
Duo Sport
A duo sport bike is a street-legal bike that you can also take off the road. Equipped to hit the pavement and rough terrains, it's an obvious choice for bikers who ride their motorcycles daily as a mode of transport, or cross-country travelers who never know what kind of road they'll hit next.
The 2012 KTM 500 EXC is the most expensive dual sport bike in 2012 which costs $9,899. Its 510cc engine and 2.38 gallon fuel tank are larger than normal bikes in this class. Seat height is just a bit higher than normal making it suitable for tall and short riders. But its electronic fuel injection and electronic ignition are two of its most remarkable features.
Financing the bike of your dreams
Choosing which dirt bike to get is the easy part, but financing it? Well, that's easy too! Actually, there are a few options that will help you with your purchase: Unsecured, Secured, No Deposit, and Fixed Rate. Here's a quick overview:
Unsecured bike loan transfers the ownership of the bike to the borrower. The lender will not hold the bike or any asset as security.
For secured bike finance, the lender will hold the motorbike or other assets as security. The borrower gets complete ownership of the motorbike once the loan is fully paid.
No deposit loans are exactly what its name says it is: no deposit is required from the borrower. However, this could mean slightly higher monthly payments.
Fixed rate bike loans place a fixed interest rate on the purchase based on the period of loan. Most bike loans last from 1 to 5 years depending on the preference of the borrower.
Still unsure on whether you can afford a dirt bike for your wild weekend adventures? We can help you decide! Visit our bike finance page or leave your information with us and we'll contact you to discuss.